Do you know the relationship between uncertainty, change, anxiety and coaching?
Before I start explaining the relationship among all these four concepts. I would like to ask you a question.
How do you deal with change?
How do you feel when you feel the uncertainty in your life?
When you feel the lack of stability or the lack of control in your life, do you start overthinking?
Do you start feeling any anxiety symptoms?
Do you feel nervous or restless? Tired or weak?
Do you experience a sense of danger or panic?
Does your heart rate increase?
Do you have problems sleeping?
Do you notice a change in your appetite pattern?
Do you have problems concentrating? Or do you overthink?
If your answer is yes to any of those questions. Don't worry, it's normal. Your first reaction is completely normal, since our brain it is prone to react negatively to change and believe it or not, our brain will work hard to prevent the change.
"Our brain, it's prone to react negatively to change"
You have to know that our brain hates changes. Our brain hates uncertainty. Our brain is programmed to maintain stability. To maintain the survival instinct that have made us evolve until today. So, any single fact that takes us out of our comfort zone, every single thing that brings instability to our lives, it is going to create a negative response from our reptilian brain. Our brain is going to deny any new reality and will try to block it to turn true. Since it does not want to leave the certainty and comfort of its current reality.
So, when we suffer a change in our environment, in our social life, in our working area, in our love, family or emotional life, our brain will feel threatened its sense of stability, it will resist as much as possible.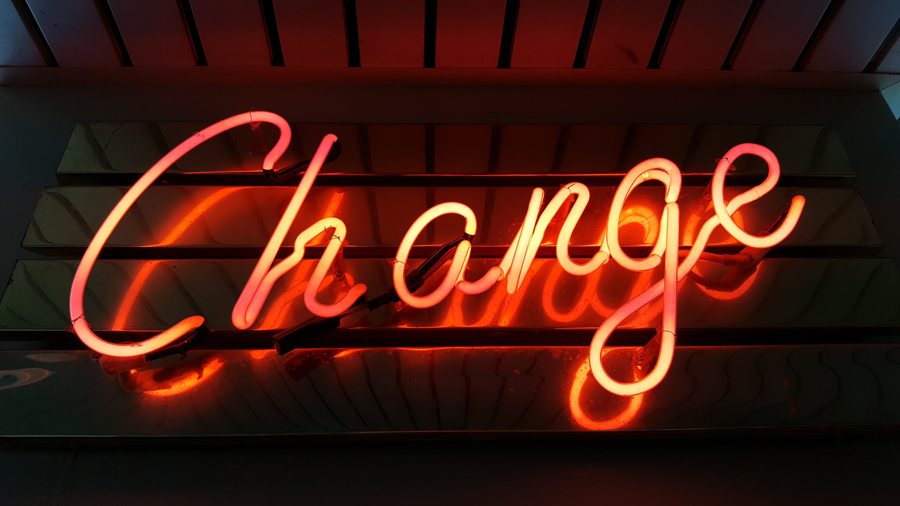 Barriers to change
Which barriers can we face towards change?
Excuses:

A lot of excuses will just show up for you to believe you cannot handle the change.

Overthinking:

You will start designing terrifying scenarios that will prevent you from changing

Hiding:

You will not react to change, hiding like a turtle in its shell.

Over analysis:

You will be so busy analyzing all possible options that you will not take any action that will drive you towards the new reality

Other's opinions:

You might face others barriers to change. Did you ever feel discouraged by your loved ones, when you shared a new project or a new vital decision with them? Did you ever get a negative response or perspective when you verbalized a change you were willing to take? Unconsciously, your friends, family or love ones, are preventing you from changing, projecting you with their fears. Because unconsciously, what they really want for us is security. If there is something that we know the change brings is instability, specially at the beginning, and what they really want for us is security.
Keep control:

Needing to always keep the control and the uncertainty of change are incompatible. Our inner perfectionism feels unsecure when cannot keep the control, and it is not able to adapt to a new situation in a fast way.
Negativity:

Always focusing on the negative consequences of this change may prevent you from acting. If there is something we have learned from life, is that every single thing, has its positive and its negative side. Identifying both sides of the situation is key to take the best decision towards change.
Energy consumption:

The changes and the process of the adaptation that produces consumes a lot of our energy. And our brain is programmed to save energy. It's going to fight against it, so it's going to procrastinate, It's going to look for excuses, and try hard to avoid the change
Does all this sound familiar?
Did you ever experience any of the barriers mentioned before when a sustainable change appeared in your life?
Can you recognize yourself making up excuses? Or denying the new reality and hiding like a turtle in its shell? Or only focusing on the negative side of the news that were coming to your life?
Having talked about what uncertainty brings, how our brain reacts to change and how anxiety symptoms may show up in our body when we feel the instability inherent in the changes, I would like to propose you a solution to deal with all the consequences of change. It is called a coaching process.
How can i prepare myself to feel comfortable with uncertainty, its anxiety and face change
Through the coaching process, you're going to learn the tools that you need to identify all these mental barriers that your brain is going to build up.
Coaching for change will:
Identify all the barriers you create towards change
Identify the emotions and feelings resulting from uncertainty, change and anxiety

emotion such as denial sadness, anger, frustration…

Help you out to accept them
Help you understand the cause of your anxiety and will help you deal with it
Explore the reasons why they appear and how to handle them
Allow you to build up your self-awareness
Identify the resources and the options that you have to face this change.
Build a positive approach towards change
Teach you how to learn from this change, what positive opportunities might bring you to your life,
Modify your mindset towards change, so you flow with it
Build your flexibility towards change
Increase your Resilience
Open your mind to see the opportunities change brings
Increase your creativity to find new solutions towards the changing situation and its consequences
Build your courage to face the uncertainty and live with it
Prevent your mind against building up your barriers towards change
Train you to live in a century were to be outside your comfort zone It's going to be the new reality.
We live in a time when changes go so fast, that being able to adapt efficiently to changes is going to be key to survive. But before, we need to learn how to do it.
Do you dare to start dealing with change?
So now that we have talked about the relationship between coaching, uncertainty, anxiety and change, how all these resonate to you?
How are you going to face change, now that you know a bit more?
In case you would like to go deeper, here I am to help you out.